How Can I Know Heaven Is My Home?
The single most important question that you will ever answer is this, "
If I were to die today or five years from now, am I 100% sure that all of my sins (past, present and future) are forgiven and that I have eternal life in heaven?"
Your answer to this question is paramount to your relationship with God through Christ (I Peter 3:18).
The Bible tells us in I John 5:13, "
These things have I written unto you that believe on the name of the Son of God; that ye may know that ye have eternal life
…" The simple truth is, God wants you to know where you're going when you die! So, here is the gospel of Jesus Christ in a nutshell!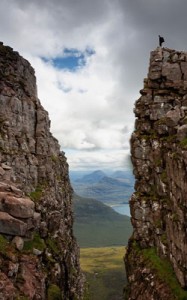 Our sin creates an impassable chasm between us and eternal life with God.
1. Recognize Your Condition
In order to gain the right relationship with God, you must first understand your sinful condition before God.
I John 3:4, "
Whosoever committeth sin transgresseth also the law: for sin is the transgression of the law
." Sin is defined as any act that is contrary to God's law and His commands. You sin anytime you violate God's law. Every time you lie, lust, use God's name in vain, steal, or covet (just to name a few) you are sinning against God.
Romans 3:23, "
For all have sinned, and come short of the glory of God
." The Bible reminds us that everyone has broken God's divine law, and thus, everyone is a sinner. Romans 3:10, "
As it is written, There is none righteous, no, not one
:" Romans 5:12, "
Wherefore, as by one man sin entered into the world, and death by sin; and so death passed upon all men, for that all have sinned
:"
Romans 6:23, "For
the wages of sin is death; but the gift of God is eternal life through Jesus Christ our Lord
." Sin also has a penalty. The "wage" or payment for our sin is eternal separation from God in a place called Hell.
So, your condition before God is not good. No matter how good you see yourself, God sees you as a sinner who is guilty of breaking His law.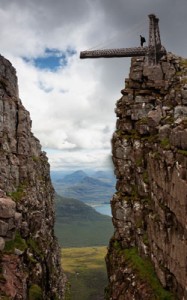 2. Religion and Good Works Are Not the Answer
Religions try to create their own ways to God. Their systems may seem logical, but they cannot bridge the gap created by our sin.
Proverbs 14:12, "
There is a way which seemeth right unto a man, but the end thereof are the ways of death
." An important thing to remember is that it does not matter what a man or a church says, the only thing that matters is what God has said.
Romans 10:3, "
For they being ignorant of God's righteousness, and going about to establish their own righteousness, have not submitted themselves unto the righteousness of God
." This eye-opening verse talks of people who try to gain access to God by religion, church, or other means beside through Jesus Christ alone.
Ephesians 2:8-9, "
For by grace are ye saved through faith; and that not of yourselves: it is the gift of God: Not of works, lest any man should boast
." Here's a thought-provoking question for you, If you could gain access to heaven by being a good person, why did Jesus have to die? The answer is, if we could earn our way to Heaven, Jesus would not have to die; however, we can never earn God's favor by our good works. We can never be good enough to go to Heaven.
A church or our best efforts could never be enough to turn God's wrath away from our sin. We can be good and sincere, but it will not be enough to go to Heaven. Our sin must still be paid for. Thankfully, the Bible provides true answers of grace and forgiveness.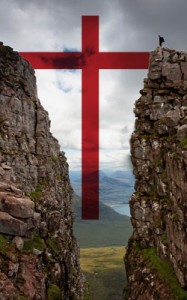 3. The Good News is that Jesus Christ Provides the Way!
Even though you are separated from God because of your sin, God still loves you and sent His Son to die on the Cross to pay the penalty for your sins.
John 3:16, "
For God so loved the world, that he gave his only begotten Son, that whosoever believeth in him should not perish, but have everlasting life
." Through the death and resurrection of Jesus, He became the payment for your sin. Since Jesus paid your debt, you don't have to! Forgiveness of sin is only provided by His grace.
John 14:6, "
Jesus saith unto him, I am the way, the truth, and the life: no man cometh unto the Father, but by me
."
John 11:25-26, "
Jesus said unto her, I am the resurrection, and the life: he that believeth in me, though he were dead, yet shall he live: And whosoever liveth and believeth in me shall never die. Believest thou this
?"
Romans 5:8, "
But God commendeth
[proved or demonstrated]
his love toward us, in that, while we were yet sinners, Christ died for us
."
The only way we can have our sins forgiven is through Jesus Christ.
4. Believe and Receive Christ
In order to have a relationship with God and an eternal home in Heaven, you must stop trusting yourself, your works, and your religions, and place your full trust in Jesus Christ alone for the forgiveness of your sin.
Roman 10:13, "
For whosoever shall call upon the name of the Lord shall be saved
." That is a promise directly from God that if you will pray to Him, confess that you are a sinner, ask Him to forgive your sins, and turn to Him alone to be your Saviour; He promises to save you and give you the free gift of eternal life.
John 6:47, "
Verily, verily, I say unto you, He that believeth on me hath everlasting life
."
You can make that decision today by praying from your heart, something like this:
Dear God, I understand and believe that I am a sinner and that I deserve the judgment of Hell because of my sin. But I also understand and believe that Jesus Christ paid for my sins when He died on the cross and rose again. The best I know how, I'm asking You to forgive my sin, save me from the penalty of my sin in Hell, and credit Christ's righteousness to my account. I repent of my sin and my own good works and I depend only on you. Thank you for saving me and for giving me eternal life. Amen.
You'll never regret that decision!
If you have just trusted Christ, we would love to know about your decision and give you a Bible as well as some other materials that will help you learn more about your new relationship with the Lord! Please contact us at 440.251.2377 and let us know today!